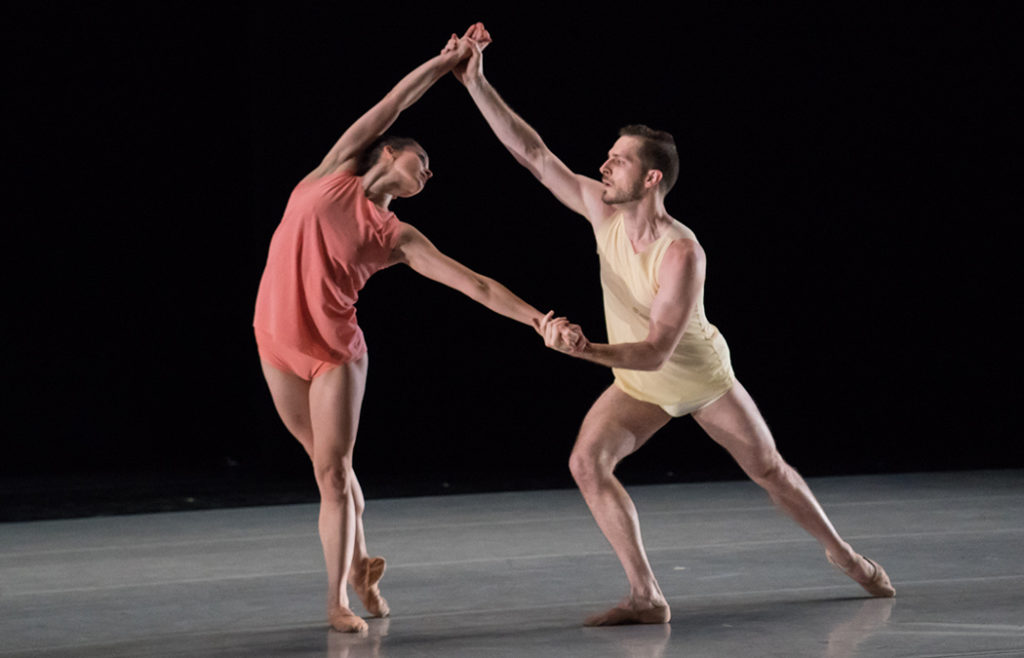 If there is a lesson Jarod Boltjes '12 can teach all of us during these trying times, it's the power of resilience.
After Boltjes graduated from Saint Mary's University of Minnesota with a B.A. in performance study of theatre, he auditioned to be in James Sewell Ballet in Minneapolis.
"I was told to get more experience and come back. So here I am," said Boltjes, who has been a member of the ballet for about a year.
Following the advice of those at James Sewell Ballet, he went on to perform at performing arts companies and ensembles throughout the Twin Cities metro area, such as Contempo Physical Dance, Twin Cities' Ballet, Collide Theatrical, and St. Paul Ballet.
"With the audition process, you're going to hear a hundred nos before you get that one yes," Boltjes said. "It's always a continuous "What's next? And how do you want to keep going?"
Boltjes' performing arts career began at Page Theatre as a first-year student, taking part in "The Nutcracker" by playing both Drosselmeyer and a Russian soldier. Before that experience, the Adrian, Minn., native had only done community theatre performances in school gymnasiums.
"It took finally getting under mainstage lights to say, 'This is the place that I want to be,'" Boltjes said.
Where it all began
Before the COVID-19 health pandemic put an end to originally scheduled plans, Boltjes was set to return to Page Theatre on March 27 as part of James Sewell Ballet's 30th Anniversary Retrospective Tour throughout Minnesota. It was recently announced that the show has been tentatively rescheduled for Friday, Sept. 18.
Boltjes received several notifications from former classmates and other alumni who were planning to make the trip to Winona just to see him.
"He was a hard worker in his dance classes. He always asked thoughtful questions about movement mechanics and artistry, but he was also one of the most endearing students because of his encouragement of others in his classes and his responsiveness when dancing with a partner," said Tammy Schmidt, Theatre and Dance assistant professor. "His gentle spirit was obvious to anyone who witnessed his dancing, which made him a beloved member of the company to audience members, choreographers, and other dancers alike."
Schmidt met Boltjes when he was a first-year student in her ballet course pursuing a theatre minor. She saw something special in Boltjes on the stage. She encouraged him to blaze his own trail by creating his own major.
"She saw that I had a gift that I wasn't utilizing to its full potential, so she pushed me in that direction and it stuck," Boltjes said.
Boltjes spent almost five hours one Saturday constructing the requirements needed to complete his major with Judy Myers, Theatre and Dance Department chair and professor.
Discovering a new world
His academic journey at Saint Mary's was highlighted by a three-and-a-half month study abroad experience at the Rose Bruford College in London and The Gaiety School of Acting in Dublin, where he would take up to five classes at a time while blogging and journaling about working with an array of highly regarded instructors.
"[Tammy Schmidt] saw that I had a gift that I wasn't utilizing to its full potential, so she pushed me in that direction and it stuck."

 

—Jarod Boltjes
When he is not working at James Sewell Ballet, Boltjes can be found teaching dance and choreography at the youth-based Circus Juventas or giving barre or yoga lessons at a local yoga studio.
He encourages aspiring dancers and performers to always know their value and worth when it comes to taking on projects or joining companies — and work on a diversified skill set that can help them find work in a variety of outlets.
"At the end of the day, you need to be able to stick up for your art and your passion," he said. "But you also need to have multiple skills. If you go somewhere and they don't need a dancer, but they need someone who can do costumes, lighting, or set building, having that skill set prepares you for that next opportunity … whatever it may be."
Featured image: Jarod Boltjes dances with Chloe Duryea in Jennifer Hart's "Bloom" during a recent performance by James Sewell Ballet, based in Minneapolis. Boltjes was scheduled to perform with the ballet company on March 27 at Page Theatre on the Winona Campus. That performance has been tentatively rescheduled for Sept. 18.