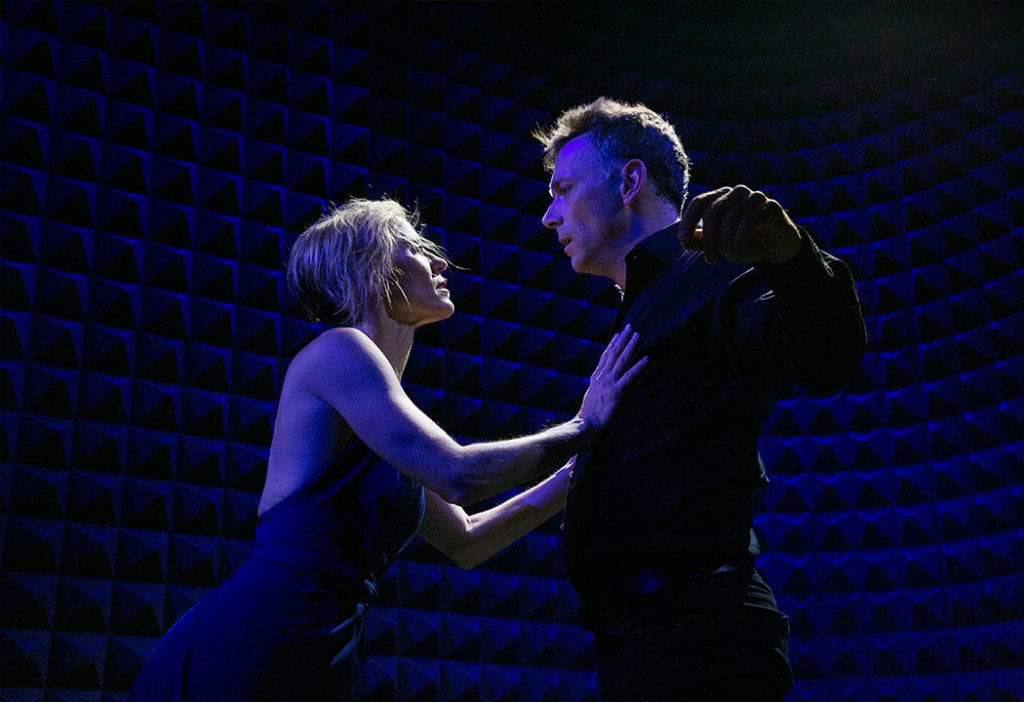 WINONA, Minn. — The Page Series will present two performances of the cabaret-style KEIGWIN + COMPANY show Places Please! on Saturday, Nov. 10, at 7 and 9 p.m. at the Valéncia Arts Center, home to the Minnesota Conservatory for the Arts.
In Places Please!, longtime collaborators Larry Keigwin and Nicole Wolcott take audience members on a zany trip brimming with playfulness and anxiety from life behind-the-scenes. Set backstage during the final moments before the curtain rises, Places Please! features dance and performance set to music ranging from Broadway classics to contemporary classical music to '80s pop hits.
The result is a cocktail of biting satire, quick-witted physical comedy, and gentle moments of deep pathos, all celebrating the duo's exuberant and dynamic relationship. By basking in the artifice and then taking it to task, Keigwin and Wolcott highlight the absurdity and sublimity that put the show in show business.
Six performers from the Winona area will work with Keigwin and Wolcott in the days leading up to the event, using the duo's signature process of mixing, matching, and editing as they learn choreography, improvise, and work to integrate their own content into the show. The local performers include Andrea Joy Shearer, Anne Williams, Becca Braun, Michael Chouanard, Raina Racki, and Amanda Pohlman, who won a spot as "Audience Choice Soloist" following an open voting process on Facebook.
The Page Series will also offer two workshops with Keigwin and Wolcott for intermediate and advanced dancers ages 12 and older. The first, Let's Make a Dance, will guide participants through Keigwin and Wolcott's collaborative choreographic process using games and guided improvisation to enable individuals to discover their own physicality and transform themselves into performers. Let's Make a Dance will take place Thursday, Nov. 8, at 3:30 p.m. at Memorial Hall on the campus of Winona State University, located at the corner of Main and 8th streets. The second workshop, a contemporary and modern dance master class, will take place Friday, Nov. 9, at 3:30 p.m. at SG Danceworkz and Fitness Studio, located at 1733 Service Dr. Both classes are offered free of charge, but registration is required. Participants can learn more and register at pagetheatre.org.
Tickets to Places Please! are $22. Table seating and a cash bar will be available, with reserved seating for Page Series subscribers. The Valéncia Arts Center is located at 1164 W. Howard St. in Winona. For more information or to order tickets, visit pagetheatre.org or call 507-457-1715 from noon to 6 p.m. weekdays.
With occasional mature content, Places Please! may not be suitable for some young audience members. Minnesota Conservatory for the Arts will be offering an on-site "Kids Night Out" program during the 7 p.m. performance for children ages 3-12. Additional information and registration is available at mca.smumn.edu.
A video preview of the performance can be found at youtu.be/Dme7Y4YHJxw.
About the Page Series
Now in its 32nd annual season, the Page Series connects professional performing artists from around the globe with thousands of Winonans each year. With events at the Joseph Page Theatre on the Winona Campus of Saint Mary's University of Minnesota, as well as at locations across the Winona community, the Page Series offers dance, music, and theatre performances, workshops, classes, and more that inspire, uplift, educate, and invite community members to discover the relevance of the arts in their daily lives.
This activity is made possible by the voters of Minnesota through a Minnesota State Arts Board Operating Support grant, thanks to a legislative appropriation from the arts and cultural heritage fund.
Page Series community programs are made possible, in part, through a grant from the Xcel Energy Foundation.
About the Artists

Larry Keigwin is a native New Yorker and choreographer who has danced his way from the Metropolitan Opera to downtown clubs to Broadway and back. He founded KEIGWIN + COMPANY in 2003 with Nicole Wolcott, and as artistic director, he has led the company as it has performed at theaters and dance festivals around the world. KEIGWIN + COMPANY has performed at The Kennedy Center, The Joyce Theater, Works & Process at the Guggenheim, and New York City Center, among many others venues. Keigwin has created dozens of dances for himself and his dancers, as well as for Paul Taylor's American Modern Dance, Royal New Zealand Ballet, the Martha Graham Dance Company, the Juilliard School, Vail International Dance Festival, and many others. His work in musical theater includes Tales of the City at ACT in San Francisco, the off-Broadway production of Rent, and the 2013 Broadway musical If/Then, starring Idina Menzel.
Nicole Wolcott is a Brooklyn based artist.  Called "one of today's finest dance comedians and a knockout dancer," by the New York Times. She has enjoyed an exciting career with dance companies, rock bands and video artists and been the subject of a feature article in DANCE TEACHER magazine. Wolcott co-founded KEIGWIN + COMPANY with Larry Keigwin in 2003 and was the associate artistic director and a featured dancer until 2013. She continues to assist Keigwin on projects including the Off-Broadway production of Rent and Broadway's If/Then. Wolcott's choreography has been performed at venues ranging from The Joyce Theater to CBGB's. Currently she is touring her evening length solo titled PaperPieces.
KEIGWIN + COMPANY, founded in 2003 by Artistic Director Larry Keigwin and Nicole Wolcott, creates and presents Keigwin's electrifying brand of contemporary dance. K+C reaches national and international audiences and invigorates diverse communities with a refreshing vision of dance that embodies a theatrical sensibility of wit, style, and heart. Since K+C's premiere performance at Joyce Soho in 2003, Keigwin has created 35 dances, including the acclaimed large-scale community project, Bolero, which has been commissioned in eleven communities across the country, Runaway (2008), a fashion-inspired choreographic ride, proclaimed "a thrilling coup d'theater" by James Wolcott of Vanity Fair, and Canvas (2013), heralded as "intricate, neat, rapturous" by the New York Times. Over the past decade, K+C has presented performances around the world at venues including The John F. Kennedy Center for the Performing Arts, Summerdance Santa Barbara, New York City Center, The Joyce Theater, the American Dance Festival, Bates Dance Festival, the Guggenheim in Bilbao, Spain, and more. In 2017, K+C embarked on a tour to Cote d'Ivoire, Ethiopia, and Tunisia as a part of the sixth season DanceMotion USA, a program sponsored by Brooklyn Academy of Music and the U.S. Department of State.