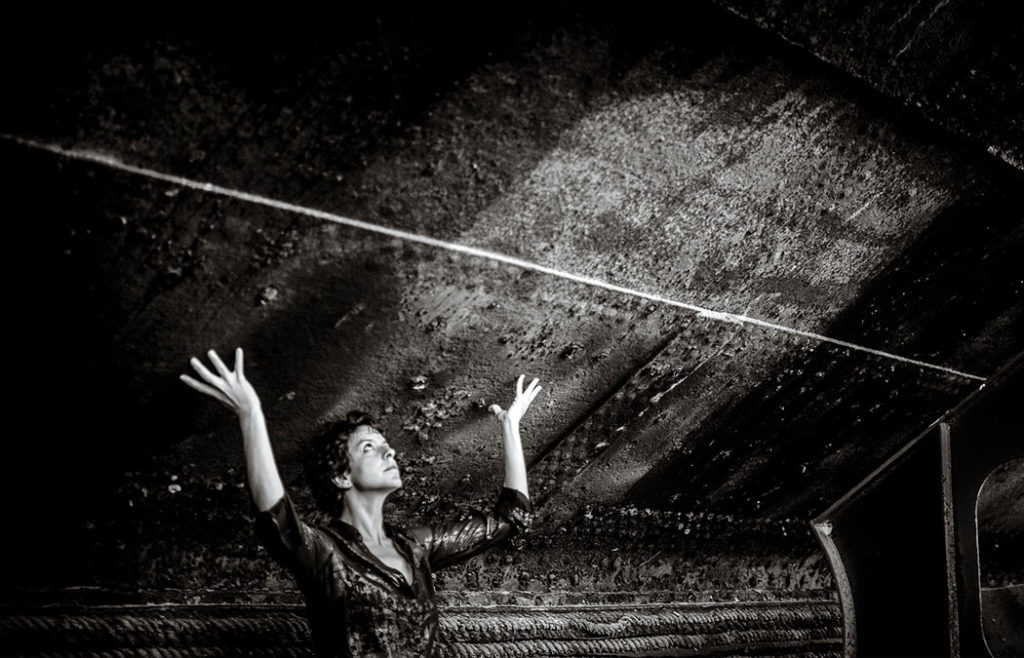 WINONA, Minn. — The Saint Mary's University Page Series will present Za'atar, an evening of contemporary performance and dialogue featuring three dynamic female Arab American artists, 7:30 p.m. Friday, Jan. 18, at the Valéncia Arts Center (1164 W. Howard St.).
The second installment in the 2018-19 season's Cedar Tree Project, Za'atar is named for a Middle Eastern-Mediterranean blend of spices that creates a rich and distinctive flavor. The event features of three artists, each performing solo works:
Leila Awadallah, a Palestinian American of Minneapolis
Awadallah will perform YISSH, a piece rooted in the Palestinian-American experience that explores the tension between a deep urgency to run toward Palestine and the patience required in the time it takes to reconnect. Her choreography emerges from an aesthetic of embodied calligraphy. She creates movement by writing words of the Arabic language, as well as pulling from Arabic folk dance forms, such as dabke, and social elements of belly dance to share Palestinian stories through her own articulation of Arab contemporary dance.
Sharon Mansur, a Lebanese American of Winona
Mansur's Among the Cedars is a snapshot of the rich and emotionally layered experience of Mansur's first trip to Lebanon in spring 2018 and a continued meditation on her Lebanese heritage, her personal experiences with the complex and fluid nature of cultural identity, and the power of place in our dreams. Her solo will be integrated into her upcoming Dreaming Under a Cedar Tree 2.0, presented by the Page Series April 24-25.
Leyya Mona Tawil, a Syrian Palestinian American of Oakland, Calif.
Tawil's All we could give was our watching interrogates distance as it relates to power and agency. A new work that Tawil began during her fellowship at the Saari Residency in Finland, the score is built live with microphones and effects altered by her proximity to them. The dance material is tested through iterative variations as Tawil searches for ways to understand what she can and cannot control. It is a quiet, yet steady, treatise related to political resistance.
Inspired by the Arabic word for "trio," the performance will conclude with Thulathi, a new collaborative work devised and performed by Awadallah, Mansur, and Tawil specifically for this event. The work will celebrate the first time these three artists have created and performed together and integrated their individual and shared perspectives as artists, women, and Arab Americans.
Prior to the performance, Winona State Dance Program Director Erin Drummond will offer a talk — starting at 7 p.m. — introducing contemporary performance and themes that will be explored through Za'atar. A post-performance discussion with the artists will give audience members the opportunity to further explore the ideas and issues presented through the performance in an effort to encourage empathy and understanding.
The Page Series will also offer two free events with Awadallah, Mansur, and Tawil to introduce the artists and their work to the Winona community:
Za'atar Artist Panel: Arab American Women's Identities and Activism through Performance
Wednesday, Jan. 16, at 5:30 p.m.
Winona State University SLC 120
Za'atar Artist Talk
Thursday, Jan. 17, at 12:10 p.m.
Figliulo Recital Hall, Saint Mary's Performance Center
Tickets to the performance are $15 and may be purchased online at pagetheatre.org or by calling the Saint Mary's Performance Center box office at 507-457-1715 (noon-6 p.m., weekdays). Tickets will also be sold at the door on Jan. 18 beginning at 6:30 p.m.
About the Artists
Leila Awadallah is a Palestinian American dancer, choreographer, filmmaker, and interdisciplinary performance artist based in the Twin Cities. She holds a Bachelor of Fine Arts in Dance and a minor in Arabic Language and Literature from the University of Minnesota. Her creative work unfolds within the intersections of diasporic Arab identity, Palestinian stories, and building a deeper connectivity with ancestry as it lives in the body's cellular memory. She crafts with intentional response to the ways mainstream media/histories erase, vilify, and distort Arab and Palestinian peoples. Her research in creating Arab Contemporary Dance has recently brought her into living, learning, and performing in Lebanon and Palestine. Her choreography has been presented at the Kennedy Center (Washington, D.C.), Rawi Arab Literature Conference (Minneapolis), and BIPOD Dance Festival (Beirut, Lebanon). Awadallah is a company member of the touring ensemble Ananya Dance Theatre (2013), and a co-creator of Kelvin Wailey dance trio (2016). She received a SAGE Award (2016) for her work in film, a Jerome Travel Grant (2018) to study dance in Palestine, and is currently a Springboard 20/20 Fellow (2018-19). Learn more at leilaawadallah.com.
Sharon Mansur is a Lebanese American experimental dance and visual artist, educator, curator, mover, and shaker based in Winona. She is committed to dance as a transformational and healing catalyst for individuals and communities. Her performance/installation projects and dance films have been presented throughout the United States and abroad, and she is the curator of The Cedar Tree Project. Mansur was a guest artist at the 2018 International Dance Day Festival Lebanon (IDDFL) at the Lebanese American University in Byblos. She is grateful for the generous support she has recently received for her artistic projects and community engagement activities from the Southeastern Minnesota Arts Council (2017), a Springboard for the Arts Hinge Arts Fellowship (2017), and a Minnesota State Arts Board Artist Initiative grant (2018). She is also a 2018 Winona Fine Arts Commission Awardee and a 2018 McKnight Dance Fellow. Learn more at mansurdance.com.
Leyya Mona Tawil is an interdisciplinary artist working with dance, sound, and performance practices. Tawil is a Syrian, Palestinian, American engaged in the world as such. Her articulation of Arab Experimentalism embeds political sub-narratives and cultural confusions into the performance fabric. Tawil has a 23-year record of choreographies and performance scores that have been presented throughout the U.S., Europe, and the Arab world. She is a 2018 Saari Residence Fellow (Finland) and an AIRSpace Resident Artist at Abrons Art Center (New York City). Tawil is the director of DANCE ELIXIR and TAC, a venue in Oakland, Calif. Learn more at danceElixirLIVE.org.
About The Cedar Tree Project
Throughout the 2018-19 Page Series season, The Cedar Tree Project explores cultural heritage, perceptions, and identity through the lens of Arab and Arab-American artists and invites people to develop deeper understanding and empathy through artistic exchange. Curated by Winona dance/visual artist Sharon Mansur, events include dance performances, visual art installations/exhibitions, panel discussions, workshops, and community gatherings with Mansur and visiting artists. Learn more at pagetheatre.org/the-cedar-tree-project.
The Cedar Tree Project is made possible by the voters of Minnesota through a grant from the Southeastern Minnesota Arts Council, thanks to a legislative appropriation from the arts and cultural heritage fund.
About the Page Series
Now in its 32nd annual season, the Page Series connects professional performing artists from around the globe with thousands of Winonans each year. With events at the Joseph Page Theatre on the campus of Saint Mary's University of Minnesota, as well as at locations across the Winona community, the Page Series offers dance, music, and theatre performances, workshops, classes, and more that inspire, uplift, educate, and invite community members to discover the relevance of the arts in their daily lives.
Page Series community programs are made possible, in part, through a grant from the Xcel Energy Foundation.