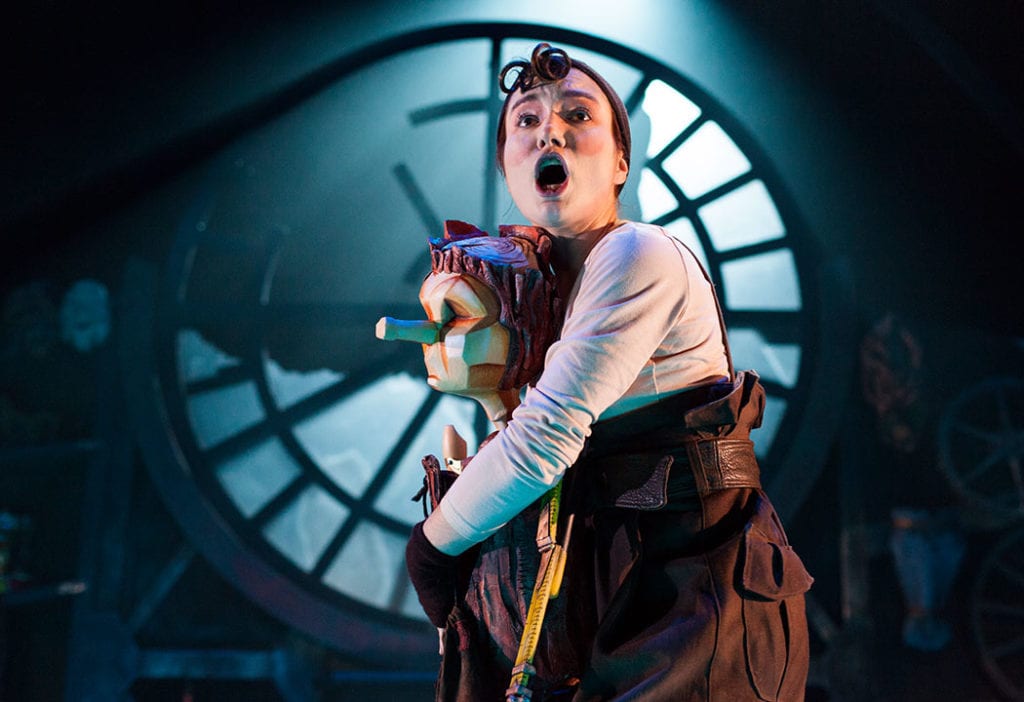 WINONA, Minn. — The Page Series will present renowned children's theater company Tout à Trac in Pinocchio on Wednesday, Nov. 7, at 6:30 p.m. in the Page Theatre on Saint Mary's University's Winona Campus.
Following the internationally acclaimed Alice in Wonderland, which was presented by the Page Series in 2017, Tout à Trac now revisits the world's most famous puppet: Pinocchio. Born from a talking piece of wood — carved by the old Geppetto — the rebellious, cheeky, and careless Pinocchio discovers the meaning of growing up through a thousand trials. To become a real boy, he will have to face Mangiafuoco, the terrible Puppet Master; suffer the malice of Mr. Fox and his sidekick, the Cat; escape from Toyland; and save his father from the belly of a giant fish.
Adapted from Carlo Collodi's classic story, Pinocchio was written by Hugo Bélanger, with the English translation by Bobby Theodore.
Founded in 1998 and based in Montréal, Tout à Trac has been exploring the inner workings of imagination and of theatre through a creative process in which acting with masks, storytelling, and puppetry all play an active part. Playfulness and thoroughness are the cornerstones of their work, and their shows are designed for all audiences, from the theatre connoisseur to the first-time attendee.
The Page Series will also host a free gathering at the Winona Public Library Saturday, Nov. 3, at noon. Recommended for children in kindergarten through grade 5, the gathering will include a Pinocchio-themed story time, craft activity, and chance to win tickets to the Nov. 7 performance.
Tickets to Pinocchio are $12 for the general public and $8 for youth ages 17 and under. For more information or to order tickets, visit pagetheatre.org or call 507-457-1715 from noon to 6 p.m. weekdays.
A video preview of the performance:
About the Page Series
Now in its 32nd annual season, the Page Series connects professional performing artists from around the globe with thousands of Winonans each year. With events at the Joseph Page Theatre on the Winona Campus of Saint Mary's University of Minnesota, as well as at locations across the Winona community, the Page Series offers dance, music, and theatre performances, workshops, classes, and more that inspire, uplift, educate, and invite community members to discover the relevance of the arts in their daily lives.
Pinocchio is a production of Tout à Trac in co-production with Place des Arts and Tennessee Performing Arts Center.
This activity is made possible by the voters of Minnesota through a Minnesota State Arts Board Operating Support grant, thanks to a legislative appropriation from the arts and cultural heritage fund.
Page Series community programs are made possible, in part, through a grant from the Xcel Energy Foundation.